Issue 2: Scooting on Limes
also: Peeps on 6th Ave and the Grocery Game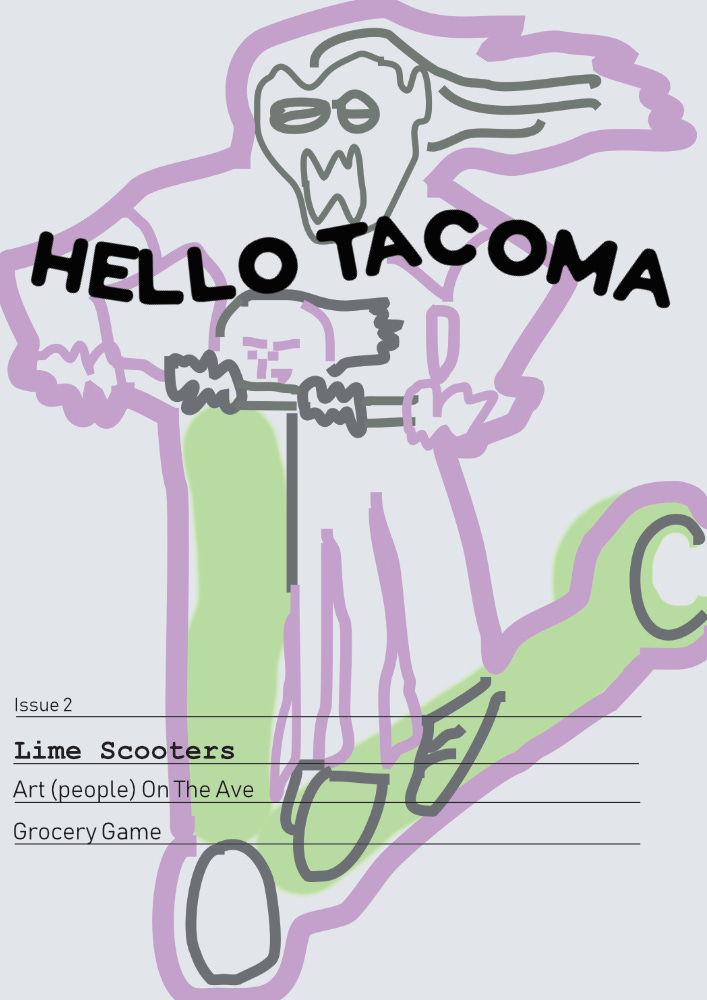 Thank you for taking the time to read our second issue.
We are finding our journalistic voice and learning what makes a good article. Our goal is to be informative and relevant. Our stories focus on our experiences and things that interest us. We are trying to be as unopinionated as possible but it's kind of hard to do that and stay interesting and fun at the same time. Therefore, this issue ended up a little more on the side of opinion. Mostly I complain about Lime scooters and romanticize a local street fair. The "joys" of grocery shopping are also shared, along with some helpful online alternatives. The main goals of this magazine are to improve our writing skills, learn to identify important stories in our city and most importantly, share them with you. This includes exploring our personal views and opinions once in a while. We hope you enjoy!
---
Lime scooters are everywhere.
By: Donovan Wilson
If it's not a small child speeding down the middle of the street, its five college co-eds swerving lazily through elderly pedestrians on an electrified scooter. As the summer begins, Lime scooters have entered into a reproductive phase, duplicating themselves from 6th Ave to Point Ruston. Does the proliferation of Lime scooters in the city improve our lives or just annoy us?
Lime scooters are battery-operated single person scooters that you can rent by the mile with an app on your smartphone. They were introduced to the city on a trial basis with Bird scooters in September 2018. The results were positive enough for Lime to accept the extension while Bird decided leave town to try their luck elsewhere. 
Lime's bright green vehicles can often be found in a tidy line standing upright with kickstands on the sidewalk. Less appealing, Lime scooters can also be found strewn on lawns and in gutters or laying dejectedly across a sidewalk abandoned by its last rider. At some point in the day Lime employees locate the scooters with GPS and pick them up for repairs and recharging. They eventually replace them at popular rental locations throughout the city. I have seen them mostly downtown, on the waterfront and in the 6th Ave, Stadium and Hilltop neighborhoods.
One interesting side effect of the abundance and accessibility of Lime scooters in our neighborhoods is the reward children enjoy from being allowed to gleefully break the law. The minimum age to ride a scooter is 18 though I've seen school-aged riders pulling full throttle down the middle of the street. It is also unlawful to ride without a helmet, however riders & bystanders alike shrug it off.
Being a curious and sometimes heedless person, I feel qualified to state that the Lime scooter is a nuisance generator. I know one when I see one. There is almost no way to talk yourself out of renting one and acting crazy; they are just too fun. What's to stop you from paying a dollar, loading up your young child, and going for a wicked fun spin?
While walking on the waterfront recently with my children, a young woman sped toward me on her green Lime scooter. Just moments after I noticed her at the top of the small hill she was riding down, she fell face first right in front of me. She couldn't stop. The little wheels wobbled too much and she crashed. She was wearing a pretty dress and she hit the ground with a thud and a tiny yelp. Her knee was scraped, and as she stood up she apologized and smiled awkwardly. I asked if she was okay, and she nodded yes and we went our separate ways. 
I have paid for my kids to ride a Lime scooter in my neighborhood on a basketball court and they had fun. My children often ask to ride a scooter whenever we see one and my wife likes threatening to rent one on our waterfront walks, but I try my best to avoid it. I think they are generally an annoying nuisance, but if I really needed to get somewhere that was just too far to walk in time, Lime scooters would be useful. As much as I dislike Lime scooters, I'm convinced they are here to stay. Just be careful and kind to others as you scoot from where are to where you are going.
---
Peeps on 6th Ave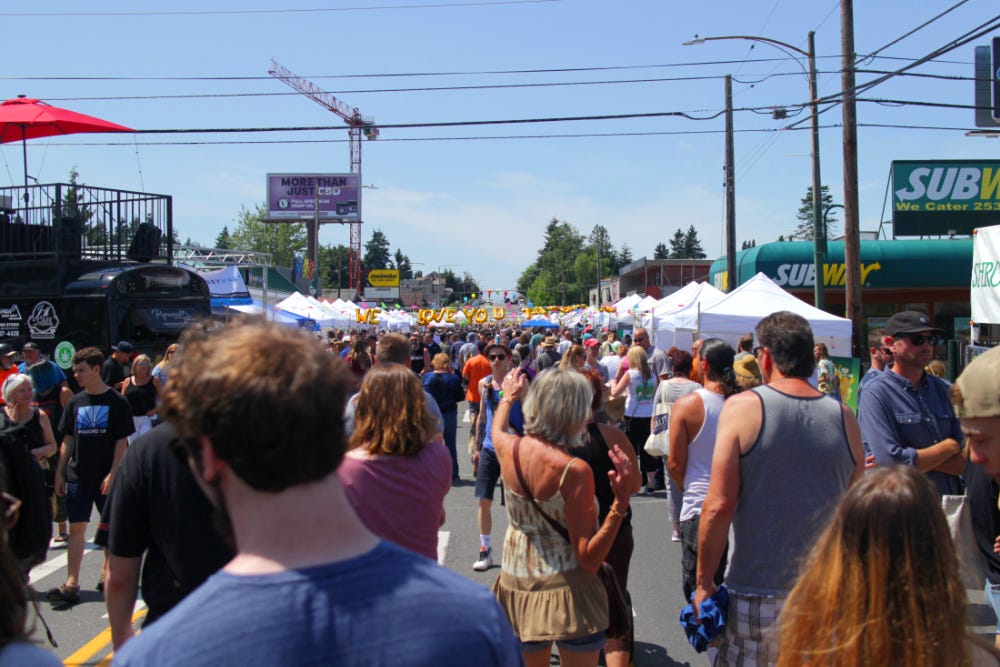 By: Donovan Wilson
"The Man of The Crowd", by Edgar Allen Poe is a short story about a man who secretly follows another man hunting out crowds to be a part of in the dirty, dingy, pulsating streets of 1840's London. The premise of the story revolves around the mysterious question: Why would someone so feverishly seek to be in a crowd of complete strangers? 
Art on the Ave is a popular annual event. It brings together a diverse crowd of strangers from the far corners of town. Each year 6th avenue is closed off from State Street to Alder Street and sets the stage for a parade of pedestrians, hawkers, and miscellaneous entertainers. The sellers' booths corral the curious crowd, directing them east/west in slow stepping pace. Young adults tattooed from face to feet mingle with stroller-sitting children. It's a pungent stew of outdoor music, food, alcohol, friendship and carousing. My sense is that most are not there to shop but rather to see and be seen.
6th Avenue is the de facto line dividing Tacoma's affluent North End from South Tacoma and the Hilltop which in total make up the wide expanse of the city. Records, vintage clothing, tattoos, ice cream, donuts, pinball, pizza, burgers and other food makes for a magnetic destination for residents and outsiders alike. It's not a tidy avenue but people come anyway. The "Ave" is one of the few places in Tacoma where so many things are happening for so many different types of people. 
Art on the Ave was more crowded than ever this year. I have been attending for a decade at least. The street was packed shoulder to shoulder all the way through. The music was divided into three stages, and if something was not suited to your taste, it was easy enough to walk away to a quieter portion of the promenade. This year the sun was out which may have enticed the meandering multitudes for a stroll. Some good crafts were to be found. Fine artists may have better luck in more wealthy towns like Bellevue or Seattle. The art from Art on the Ave is really the crowd of people themselves.
They clash so strangely and yet so peacefully. They want to be together. They want to rub off on one another. They want to be in the crowd among all the interesting people.
For a street known to divide the town, it seems also to have the gravity to bring it together.
---
Playing The Grocery Game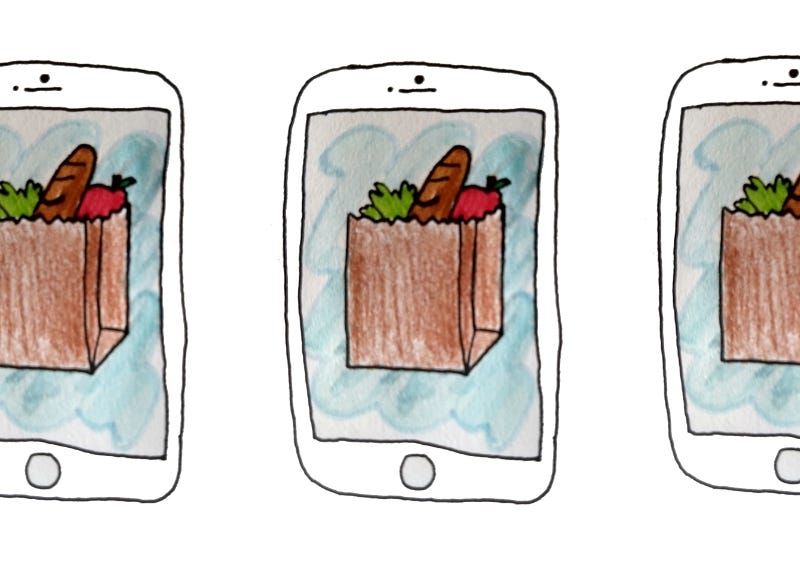 Illustration: Anna Wilson
By: Deborah Wilson
Grocery shopping. For many of us, these words stir up dread. Ten years ago I was the mother of two young children. If you have kids, you know what I'm talking about - taking young ones to the supermarket could be downright dreadful. There's the begging, the impatience, the possibility of a meltdown...and the fact that it seems to take twice as long as it would to shop alone. 
Once I discovered Fred Meyer's Playland, things started to look up. Bless Grandma Cee Cee and the hour she gave me to roam the aisles child-free. Yes, Playland was pretty helpful, but fast forward five years later, and I was thrilled to discover another helpful solution...Safeway Delivery. All of my kids had outgrown Playland at Fred Meyer, so I needed another option to take the sting out of grocery shopping. 
Safeway Delivery has come to my rescue on many occasions, particularly during stretches when the kids are home from school for several days, and I certainly don't want to bring them with me to the store. I'll admit, it still takes time to shop online, especially if you take advantage of weekly specials and coupons (a whole separate but worthwhile topic). But listen, with Safeway Delivery groceries are brought to your door and all you have to do is put them away! No lines. No looking for a parking spot. Online shopping, I discovered, was not only more convenient but also very helpful in sticking to a budget because you can see your running total and take things out of your cart if you need to.
Sounds pretty good, right? Well, recently my grocery shopping experience got even better. It seems Fred Meyer had been working hard to woo me back. Fast forward another five years to the present, and Freddie's has come up with the Grocery Pickup service (formerly called ClickList). I'm at a stage where I can actually leave my kids home for extended periods of time, and although this allows me to shop at the store, I would rather be doing other things. So Fred Meyer says, "Hey, just do your shopping online. I'm easy on the eyes with product photos you'll enjoy. If I don't have an item you want, I'll substitute it with something better but only charge you the lower price. Your first three will even be free. After that, I'll be a bargain at $4.95." Yes, Fred Meyer has caught my attention again at this stage in my life. (They also deliver now, too.) I will often run into the store to personally select a few produce or meat items after a grocery pickup, but I'm giddy knowing I've still saved myself lots of store time.
I realize Fred Meyer is not the only market on the market. Target, Walmart, and even Amazon may be worth trying out for ordering your groceries. I can't speak from experience with these chains, but if you're wondering, no, I haven't given Safeway up completely and I still am drawn to WinCo and Trader Joe's as the need fits...but Fred Meyer is the one getting most of my time and money as of late. I'm sure they would all love my complete customer loyalty, but when it comes to grocery shopping, I always like to keep my options open. Go on and give some online options a try so you can feel more like a winner at the grocery game.
Note: No compensation has been received for the opinions shared.