Alchemy Skateboarding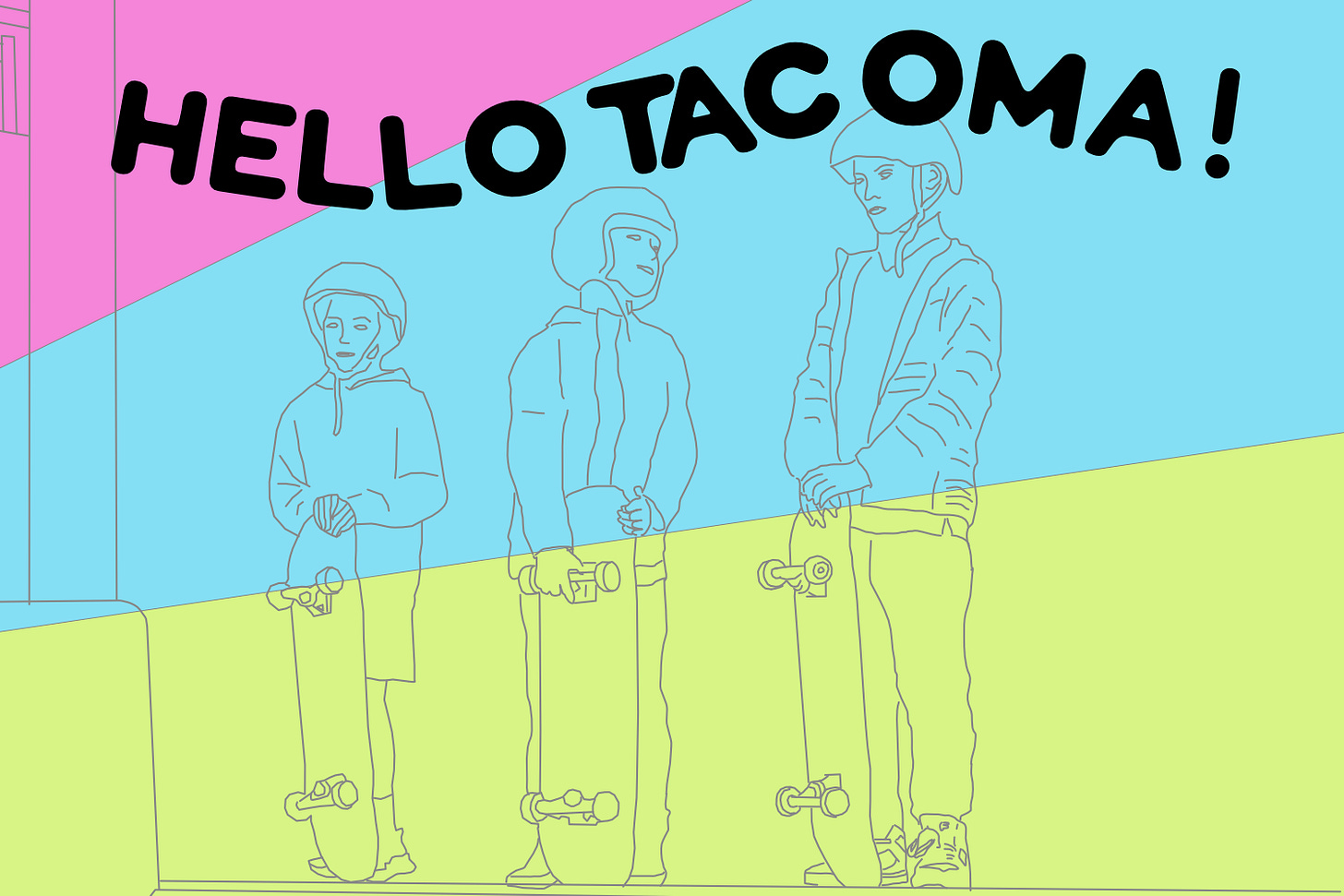 Local Spot: Alchemy Skateboarding
My sons have started skateboarding.
I've been trying to get them to come skateboarding with me for years but they've never been interested. It may be because our friend's family built a small ramp in their garage. The boys got on it and had lots of fun. As it turns out there is an indoor ramp nearby in downtown Tacoma called Alchemy Skateboarding which is part of the Grindhouse Skateshop there in the same building at 311 S 7th St.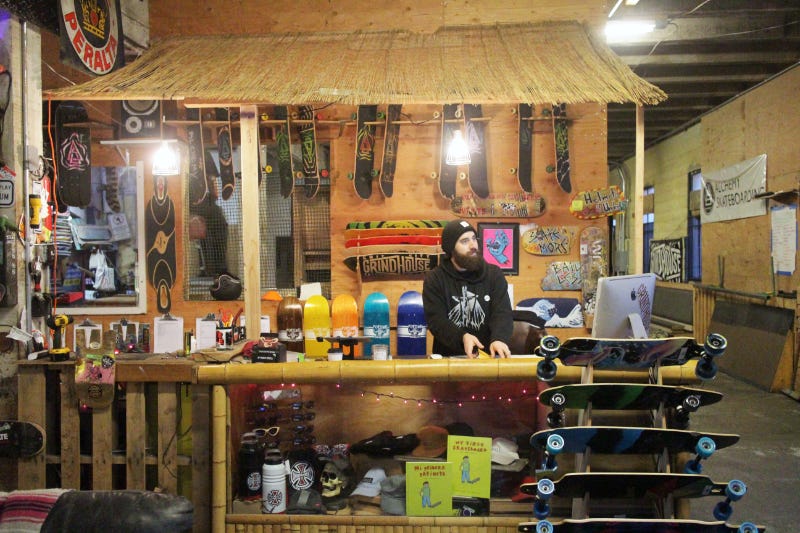 Taylor at the front desk
Alchemy
holds a "beginners" skate session each Sunday from 12 pm - 4 pm.
They provide helmets, pads and even skateboards for people to jump in and try skating. Everyone who skates must create an account and sign a waiver. It's $5 per session. Alchemy also provides scholarships for youth who can't afford it. If you plan to go often get the punch card and you save a bunch.
You may not know this but I have been skateboarding since I was a boy. I loved surfing and boogie boarding as a child and one day I got a plastic skateboard as a gift. I think it was a red Z-Flex. I lived in a hilly area and my friends and I would butt board down the steepest hills you've ever seen. I've been skateboarding ever since.
The main ramp at Alchemy is very good. It's fun and fast with good transitions and coping. The street area is small but manageable. The skate shop is also very good. They have everything you need and a good range of boards.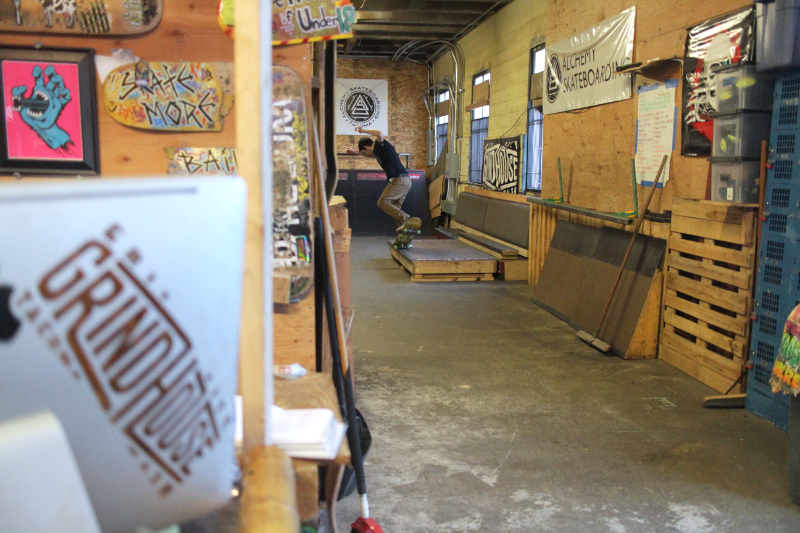 Backside nosegrind on the low ledge
I spoke with Alchemy's head skater, Taylor Woodruff and he told me about the reason behind Alchemy and its future.
Alchemy is not only a place to skate. It is a fully functional educational organization that hosts many different programs to educate and train students for the future. They work closely with schools and city governments to provide programs and materials for educational purposes. From what I could tell I sensed that Taylor has a big heart for children and young people in Tacoma. He is working hard to create a safe place for young people to learn and develop useful and creative skills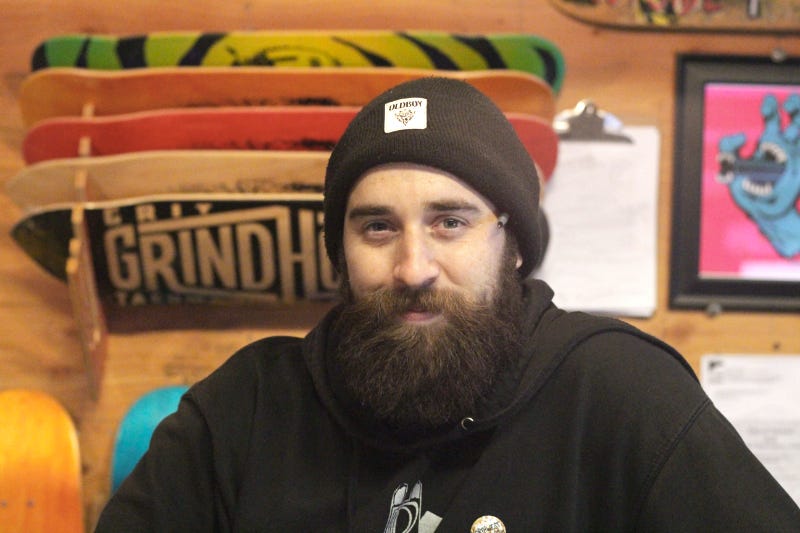 Taylor
Skateboarding is gearing up for a huge increase in popularity.
This year will be its debut in the Summer Olympics in Toyko. Alchemy seems poised to be the go-to experts on harnessing the excitement and interest into the world of skateboarding. I think they are doing a great job making skateboarding accessible to the masses without watering down the culture. Culture seems to be the real driving motivation for Alchemy. Taylor thinks very holistically about what he and his team are doing. He's more interested in helping others than commodifying the culture of skateboarding, something he truly seems to love.